SIGH
The most original band on the planet today. No one else even comes close. No one.
Chuck has recorded a lead that appears on the new SIGH album "Hangman's Hymn," in the track "Memories as a Sinner." Out now on The End Records.

BARBATOS
The CD Fury and Fear, Flesh and Bone features vocals and lead guitars by Chuck.

PENTACLE
These Dutch thrashers have released their new album Under the Black Cross on Iron Pegasus Records, featuring a song written by Chuck (the music this time) called (Storming Through) A Hail of Steel. This is PENTACLE's most ambitious album to date. Absolutely essential!

BLASPHEMIC CRUELTY
Alex's side project with Gene from Angelcorpse. Check out their debut "Devil's Mayhem" on Osmose Productions.


Adjö, my brother. See you in the great hall up high.
Chuck's first tribute to Quorthon (6/2004) has been posted online.
In Memory of Quorthon box set out now on Black Mark Records SEE FLYER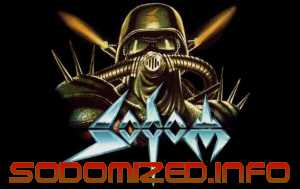 Hangmen are ready to burst their axes down.
CIANIDE
Old school death, doom, and destruction. Primordial death metal from Chicago.


MIDNIGHT

Filthy 80's style metal.

You like VENOM & MOTORHEAD? Then you have to hear this shit!

ALL HAIL HELL!!!

Hear an MP3 and get a CD of all their material so far from Shifty Records.

And look for the DLP version from NWN! Productions.
MOURNFUL CONGREGATION
Extreme Aussie Doom Metal, Atmosphere and Ambience - the best!

SABBAT
Die hard blacking hammaguri metal!!! From Japaaaaaaaaaeen!
DIABOLICAL CONQUEST
Extreme metal webzine with detailed interviews & reviews.

MORBID TALES
Satannick's killer old school zine! Hell Bent for Cooking!!!

VOICES FROM THE DARKSIDE
Frank Stover's Internet portal of Hell!!
NWN! Productions
Home of ARES KINGDOM!
Released our Firestorm Redemption and Failsafe 12" EPs, our Return To Dust CD/LP/PicDiscLP our Firestorms and Chaos compilation CD, our Incendiary CD/LP/PicDiscLP, and our Veneration CD/LP/PicDiscLP.
Also released ORDER FROM CHAOS' Stillbirth Machine and An Ending In Fire in glorious LP versions, and our working on an OFC boxset for late 2013.


INVICTUS PRODUCTIONS
Released VULPECULA's In Dusk Apparition CD.
Home of SLAUGHTER LORD's "Thrash till Death" CD as well as GOSPEL OF THE HORNS' "Realm of the Damned".
Excellent photo gallery and forum on the site as well!

BIRD OF ILL OMEN RECORDINGS
Released VULPECULA's In Dusk Apparition on clear and black vinyl LP!
MERCILESS RECORDS
Released the ORDER FROM CHAOS "Imperium, Vol. 1" collection on CD and DLP.

HELLS HEADBANGERS RECORDS
Excellent US distro & label!
Official home of BLASPHEMIC CRUELTY.
Re-released a beautiful edition of SABBAT(Jpn)'s "Evoke" on LP!


SHADOW KINGDOM RECORDS (Formerly Evil Legend Records)
Rare 80s and NWOBHM releases available, and a quality metal forum.
Released the killer METALUCIFER - Heavy Metal Hunting 1995 - 2005 CD
Good US connection for getting Iron Pegasus releases as well.

IRON PEGASUS RECORDS
Excellent label supporting the real underground stuff!
Released the POISON (Ger) "Further Down Into the Abyss (1984 - 1987)" CD/LP
Released the PENTACLE "Under the Black Cross" CD/LP.

WITCHES BREW RECORDS
Released the amazing SALUTE "The Underground" CD!!!

BLACK MARK RECORDS
Home of BATHORY. Metal for the world.

GROUND ZERO ENTERTAINMENT
Released the ORDER FROM CHAOS 'And I Saw Eternity' MCD

MAJESTIC UNION RECORDS
Home of R.U. DEAD?(R.I.P.)